The legend of storks delivering new-borns appeared in Alsace in the 1850's, a region where this bird is very present in popular imagery. The tradition then spread to the rest of France at the beginning of the 20th century. It is at this period that scissors in the shape of a stork began to appear..
Originally these scissors in the form of a stork were not sharp at the tips because… they were used to cut the umbilical cord on newborn babies! With large beak and large feet, the silhouette of this elegant bird fits particularly well to the scissor form.
Larger models are much more difficult to come by than the smaller version. This amusing pair of scissors can be found to this day, however, some of the modern-day productions can be of mediocre quality.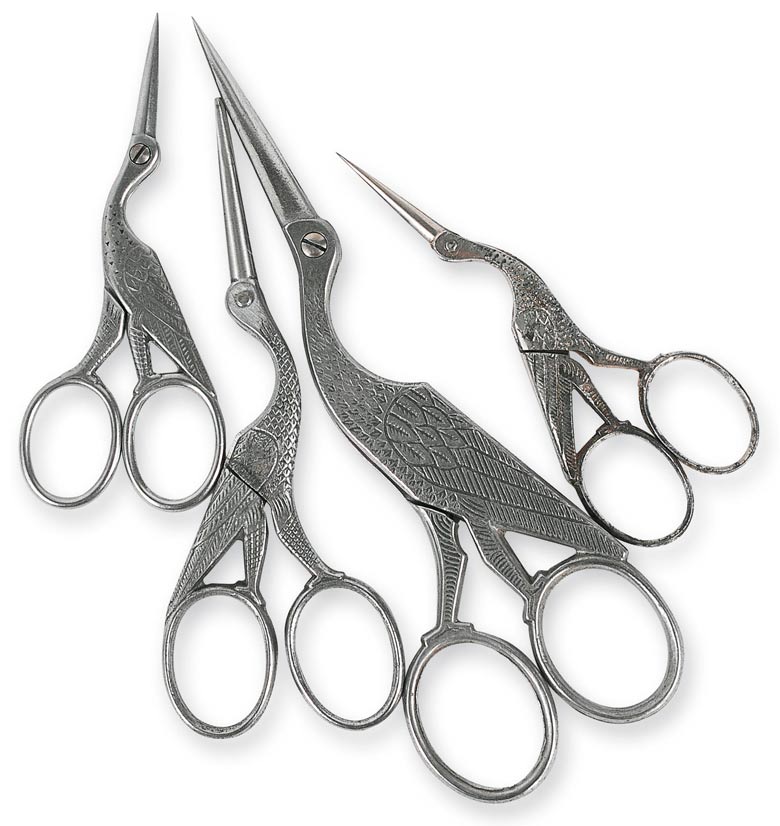 Collection of pairs of stork scissors of various sizes dating from the 1950s. 
On the left: two pieces from the 1930s, very finely engraved. Note the difference in silhouette of the two storks. The pair of scissors on the right is of a higher quality than the other, a more artisanal model.
On the right: not all bird-shaped scissors are used for needlework and shown here is a model for grapes! They could be found in the Carnot catalogue, a cutler found in Besançon in 1910. Although described in the catalogue as a stork, the body of this bird looks more like a pigeon…Those on the right are indeed embroidery scissors but, again, it is more of a pigeon than a stork.